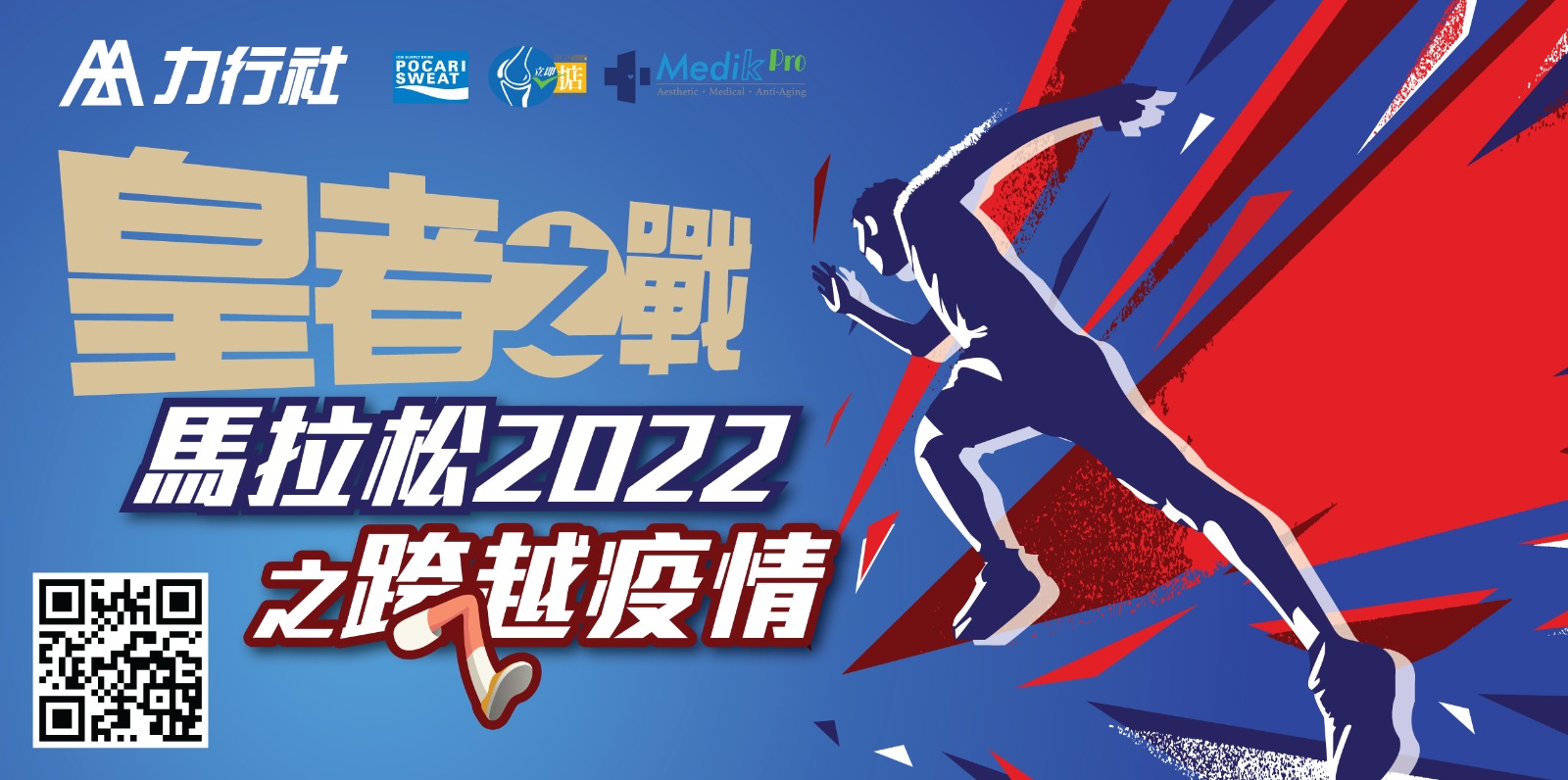 ---
「皇者之戰馬拉松」希望能為廣大市民服務,提供一個優質和有特式的路線給參加者。除此之外,我們覺得運動應該無國界,應該打破很多局限,不管他是肥或瘦、高或矮、傷殘或健全、貧或富、不同種族、正能量挑戰自己等都應該有權參與不同的體育運動,因此,我們成立一個名為「運動無國界」慈善基金,將所有籌得款項全數協助所有弱勢社群、挑戰極限、釋出正能量的參與體育運動的人士。



參加者須知
參加者須提供一個WhatsApp號碼給大會,以便隨時收到活動最新通知。請留意大會最後活動修定作準。


如是第一次在本網站報名的參加者必須先行上網登記個人資料,待電郵地址確認後才可辦理報名手續!


所有參加者須符合「疫苗通行證」規定 / 已接種第三劑疫苗,並會在賽事前48小時內上傳快速測試陰性結果至大會指定 Whatsapp: 5100 0097。此安排是避免違反限聚令,請謹記「任何時候都要做足防疫措施,量體溫、戴口罩、搓手液及保持社交距離不少於1.5米,減少到人群聚集地方」。
重要事項
只接受個人網上報名;
不接受同一電郵有2人或以上的報名;
如成功報名,大會即會發出確認電郵。若付款後兩小時內仍未收到電郵通知,請盡快於辦公時間內致電「力行社」查詢;

報名額滿即止。


活動資料
主 辦:力行社有限公司
活動名稱:皇者之戰馬拉松2022之跨越疫情
參加者可選擇*以下任何一項作為跑步地點及時間 *,如疫情變為嚴重,只可全部改為 (B線) 完成跑步距離。
選擇

(A線) 固定路線

(B線) 非固定路線

活動日期

2022年12月18日 (星期日)

2022年12月18日 (星期日) 至

2022年12月31日 (星期六)

起步時間

馬拉松 0630

半馬拉松 0730

十公里 0800

兩公里 0815

任何時間

起跑地點

大水坑

任何地點
| | | |
| --- | --- | --- |
| 距離 | 時限 | 報名費 |
| 馬拉松 | 6小時 | HK$220 |
| 半馬拉松 | 3小時 | HK$220 |
| 十公里 | 1.5小時 | HK$150 |
| 兩公里 | 20分鐘 | HK$150 |


證書
設有「完成證書」實體版,行政及郵遞費用每張HK$80 ,不設到取;參加者亦可自行下載電子證書,費用全免。



阿虫「皇者之戰」環保水樽
可認購精美的 阿虫「皇者之戰」環保水樽 Ecocan (設有紅色 / 橙色 / 綠色供選擇),優惠價每個 HK$80 / 兩個 HK$150 / 三個 HK$225。
「皇者之戰」紀念T恤
可認購精美的「皇者之戰」紀念T恤,優惠價每件 HK$80。
捐款
每位參加者可自由額外捐款,凡捐款HK$100或以上可要求發出免稅收據。 籌得善款將全數撥入「運動無國界」基金內,用作協助所有弱勢社群、挑戰極限、釋出正能量的參與體育運動的人士。
更改項目
參加者更改活動項目,必須在2022年12月3日前辦理,每次繳交行政費 HK$80。




查詢
電 話: 2607 1780 (辦公時間:星期一至五 10:00-17:00,星期六、日及公眾假期休息)
地 址:沙田石門安心街19號滙貿中心19樓1902室
網 頁︰www.acthk.org
電 郵︰inquiry@acthk.org
WhatsApp 號碼:5100 0097






NOTICE
Participants must WhatsApp their personal name to Activist Association for implementation. You can receive the latest notifications of the event at any time. Please pay attention to the final revision .
Please first register to supply our system with some necessary information including your email address. You may enroll after your email address has been confirmed.
All participants must fulfilled the requirement of Vaccine Pass / have taken 3rd dose, and will send the negative result of COVID-19 Rapid Antigen Test within 48 hours before the race to official Whatsapp: 5100 0097. This arrangement is to avoid violating the gathering restriction order. Please remember to "take adequate anti-epidemic measures at all times, take body temperature, wear masks, hand sanitizer and maintain a social distance of not less than 1.5 meters, and reduce crowd gathering places".
IMPORTANT
Only online enrolment of individuals will be accepted.
Only one single enrolment per e-mail address.
A confirmation e-mail will be sent immediately upon each successful enrolment. If no e-mail notification is received within two hours after settlement of payment, please contact Activist Association as soon as possible during office hours.

Enrolment will close when the quota is reached.


EVENT INFORMATION
Organizer:Activist Association Limited
Event:Winwin Run 2022

Participants can choose *one of the following as the running route and time*, if the epidemic situation becomes serious, all of them must be changed to (Route B) to complete their running distance.
CHOICE

(ROUTE A) FIXED ROUTE

(ROUTE B) UNFIXED ROUTE

Event Date

18th December 2022 (Sunday)

From 18/12/2022 (Sun) to 31/12/2022 (Sat)

Start Time

Marthon 0630

Half Marathon 0730

10 KM 0800

2 KM 0815

Anytime

Start Venue

Tai Shiu Hang

Anywhere
| | | |
| --- | --- | --- |
| DISTANCE | TIME LIMITED | REGISTRATION FEE |
| Marathon | 6 hours | HK$220 |
| Half Marathon | 3 hours | HK$220 |
| 10KM | 1.5 hours | HK$150 |
| 2KM | 20 minutes | HK$150 |
CERTIFICATE
Event Completion Certificate is available. HK$80 will be charged for each Event Completion Certificate to cover administration costs and postage. Participants can also download the e-certificate free of charge.
「WINWIN RUN」ECOCAN
To subscribe the 「WINWIN RUN」Ecocan (Colour : red / orange / green),special price : @HK$80 each / two for HK$150 / three for HK$225。
「WINWIN RUN」T-SHIRT
To subscribe the 「WINWIN RUN」T-Shirt,special price @HK$80。
DONATION
Voluntary donations are welcome. Donations over HK$100 are tax-deductible and receipts are available upon request. All donations will be channeled into the "Sports without Boundary" fund. This fund would help disadvantaged communities challenge their limits and sports participants release their positive energies.



CHANGES
No requests for alteration of entry will be entertained after the 3rd of December 2022, an administration fee of HK$80 will be charged for each request.


FOR ENQUIRY
Activist Association

Tel : 2607 1780 (Office hours: opened from Monday to Friday 1000-1700, closed on Saturday, Sunday and public holidays)
Address : Room 1902, 19/F, New Commerce Centre, 19 On Sum Street, Shek Mun, Shatin N.T.
Website : www.acthk.org
E-mail : inquiry@acthk.org
WhatsApp No.:5100 0097