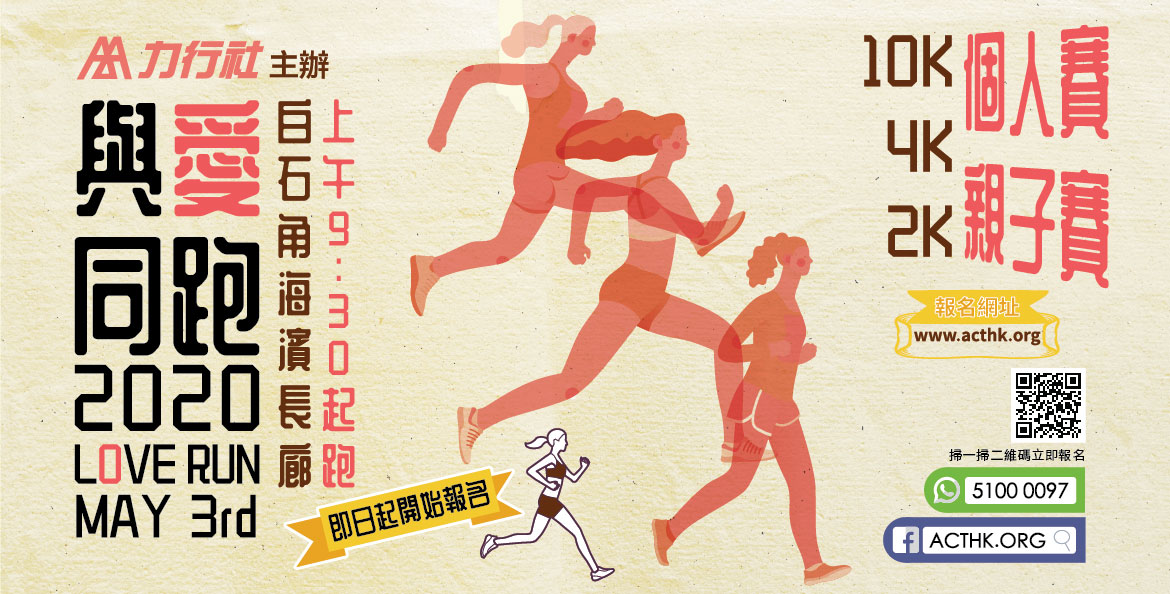 ---
賽事組別資訊
Race Categories Information
親子賽 Family Race
幼年組
Kids


一位成人 (18歲或以上) + 一位兒童 (2至5歲)
1 Adult (aged 18 or above) + 1 Child (aged 2 to 5)

兒童組
Children


一位成人 (18歲或以上) + 一位兒童 (6至10歲)
1 Adult (aged 18 or above) + 1 Child (aged 6 to 10)

* 兒童之年齡將以報名日期為準
* Children's age will be based on the registration date
* 總成績將以成人及兒童之總時間計算,若有兩隊或以上衝線時間相同,將以隊伍中首位衝線之跑手成績計算
*The total score will be calculated based on the total time of both the adult and children teams. If two teams or more have the same finishing time, the results would be calculated based on the score of the first runner of the team.
*

參賽者更改比賽項目,必須在2020年4月15日前辦理,每次繳交行政費HK$80

。
*No requests for alteration of entry will be entertained after 15 April 2020; an administration fee of HK$80 will be charged for each request.
個人賽事組別

Individual Race

10公里賽

10Km Race

4公里賽

4Km Race

2公里賽

2Km Race

兒童組 (2009-2013年出生)

-------

-------

男子組 Male

Children (born in 2009-2013)

-------

-------

女子組 Female

少年組 (2004-2008年出生)

-------

男子組 Male

男子組 Male

Junior (born in 2004-2008)

-------

女子組 Female

女子組 Female

青年組 (1990-2003年出生)

男子組 Male

男子組 Male

男子組 Male

Youth (born in 1990-2003)

女子組 Female

女子組 Female

女子組 Female

青壯組 (1970-1989年出生)

男子組 Male

男子組 Male

男子組 Male

Adult 1 (born in 1970-1989)

女子組 Female

女子組 Female

女子組 Female

成人組 (1960-1969年出生)

男子組 Male

男子組 Male

------

Adult 2 (born in 1960-1969)

女子組 Female

女子組 Female

------

先進組 (1950-1959年出生)

男子組 Male

------

------

Senior (born in 1950-1959)

女子組 Female

------

------

元老組 (1949年或之前出生)

男子組 Male

------

------

Veteran (born in or before 1949)

女子組 Female

------

------
`
路線圖
Route Map