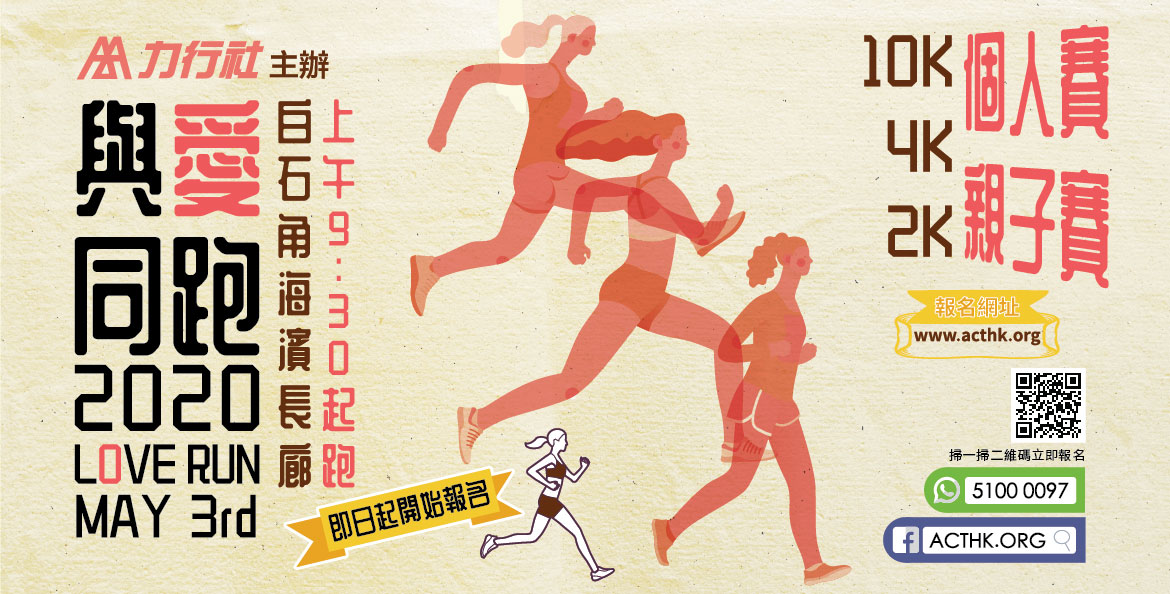 ---
活動網址Website︰https://www.acthk.org/event/p/2119


賽事資料 Race Information

主辦機構




Organizer

力行社




Activist Association

活動




Event

與愛同跑


2020 Love Run 2020

日期




Date

2020年5月3日 (星期日)




3rd May, 2020 (Sunday)

時間




Time

早上9時30分 至 中午12時




9:30 am – 12:00 nn

地點




Venue

白石角海濱公園




Pak Shek Kok Promenade
比賽時限 Time Limit

10公里個人賽




10km Individual Race

1小時45分鐘




1 hours 45 minutes

4公里個人賽




4km Individual Race

40分鐘




40 minutes

2公里個人賽




2km Individual Race

20分鐘




20 minutes

2公里親子賽




2km Family Race

20分鐘




20 minutes
行李Luggage
行李寄存地點




Luggage Storage Venue

白石角海濱公園




Pak Shek Kok Promenade

行李領取




Luggage Collection

所有運動員於完成賽事後,在白石角海濱公園的行李區憑號碼布領回行李。




All participants should retrieve their luggage in the designated area in Pak Shek Kok Promenade
報名費用 Application Fee
10公里個人賽
10km Individual Race

$180 / 人 Person

4公里個人賽
4km Individual Race

$180 / 人 Person

2公里個人賽
2km Individual Race

$180 / 人 Person

2公里親子賽
2km Family Race

$220 / 隊 Team
名額 Quota
*先到先得,額滿即止*
Quota is limited and application will be processed on a first-come-first-served basis.
10公里個人賽
10km Individual Race

500人 Person

4公里個人賽
4km Individual Race

300人 Person

2公里個人賽
2km Individual Race

200人 Person

2公里親子賽
2km Family Race

200隊 Team
證書
Certificate
設有「完成賽事證書」行政及郵遞費用每張HK$80;參賽者亦可自行下載電子「完成賽事證書」,費用全免。但袛供完成参加者。
HK$80 will be charged for each Race Completion Certificate to cover administration cost and postage. Participants may also download the e-certificate. ONLY for complete participants.
捐款 Donation
參賽者報名費將於扣除是次活動所有開支後,其餘款撥作『力行社』會務發展之用;而每位參賽者可自由額外捐款,凡捐款HK$100或以上可要求發出免稅收據。
After deduction of necessary expenses on this event, the remainder of the entry fees will be contributed to the development of Activist Association. Voluntary donations are welcome. Donations over HK$100 are tax-deductible and receipts are available upon request.
查詢 For enquiry
力行社 Activist Association
電話:2607 1780 (辦公時間:09:00-18:00 星期六、星期日及公眾假期休息)
Tel: 2607 1780 (Office hours: 09:00-18:00; closed on Saturday, Sunday and public holidays)

地址:沙田石門安心街19號滙貿中心19樓1902室
Address: Room 1902, 19/F, New Commerce Centre, 19 On Sum Street, Shek Mun, Shatin N.T., Hong Kong

網頁 Website︰www.acthk.org
電郵 e-mail:inquiry@acthk.org
WhatsApp: 51000097