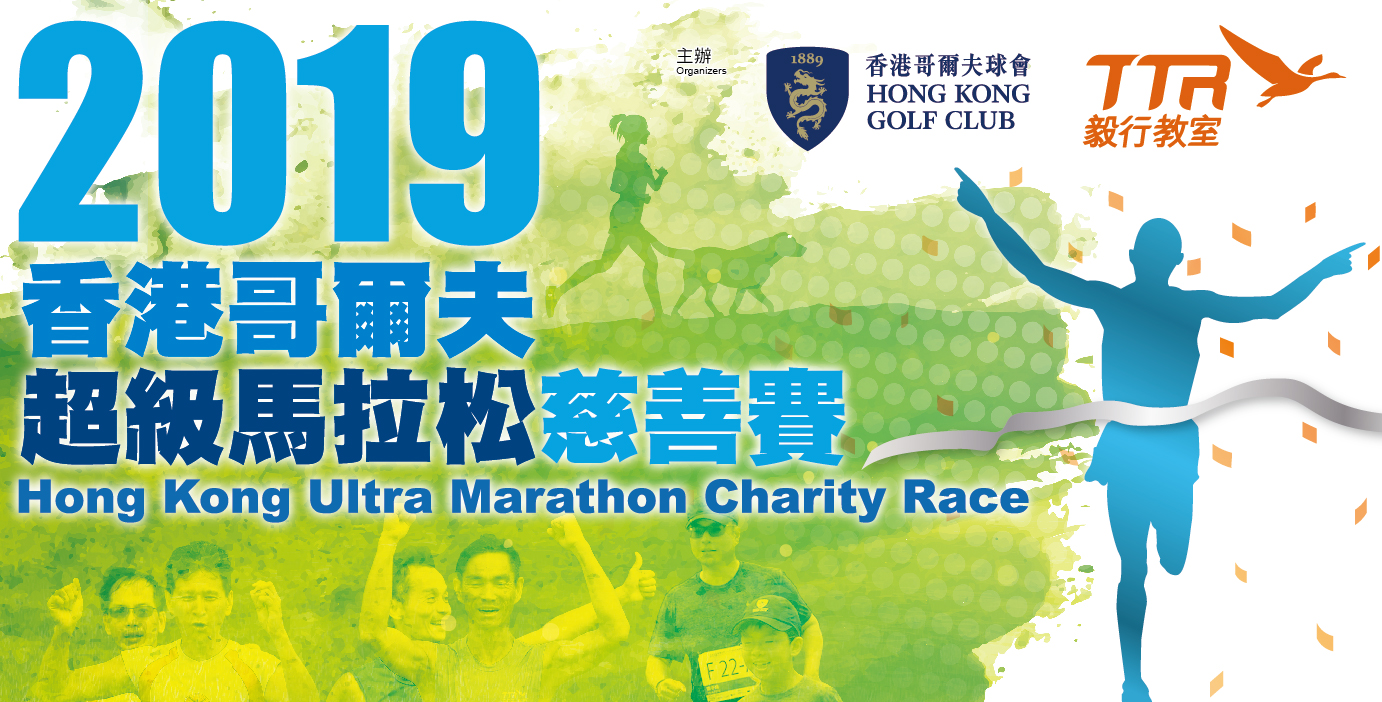 ---
2019 香港哥爾夫球會超級馬拉松慈善賽
2019 Hong Kong Golf Club Ultra Marathon Charity Race

---
冠名贊助:香港哥爾夫球會
Sponsor :Hong Kong Golf Club

主辦單位:毅行教室 & 香港哥爾夫球會
Organizers : TrailWalker Teaching Room & Hong Kong Golf Club
協辨:Cosmoboys & 力行社
Co-Organizers : Cosmoboys & Activist Association
場地提供:香港哥爾夫球會
Venue provided by : Hong Kong Golf Club
受惠機構:香港單親家庭協會
Beneficiary Organization :
Hong Kong Single Parents Association
媒體伙伴:Fitz 運動平台
Media Partner: Fitz

---
團結香港、重新啟航
Unite Hong Kong and Reset The Sail


由毅行教室及香港哥爾夫球會主辦、Cosmoboys及力行社擕手打造的「2019香港超級馬拉松慈善賽」,將於2019年1月26及27日(星期六及日),假 粉嶺香港哥爾夫球會舉行,賽事分為24小時超級馬拉松賽(IAU級)、12小時、6小時、4圈賽、2圈賽、團體賽、個人賽、親子賽等。
賽事將為跑手帶來前所未有的體驗,預計會吸引中、日、韓、港、澳、台多位亞洲精英選手,及本港政要、名人、企業、球會會員,接近1,000名跑手參加賽事,預計為受惠機構《香港單親家庭協會》籌募約港幣約50萬元善款,作為支援低收入家庭及教師培訓基金。


The "2019 Hong Kong Ultra Marathon Charity Race" organized by the Trailwalker Teaching Room, Hong Kong Golf Club, Cosmoboys and Activist Association will be held on the 26th - 27th of January, 2019 (Saturday and Sunday), at Fanling Hong Kong Golf Club. The race will divided into 24 hours Ultra Marathon (IAU level), 12 hours, 6 hours, 4 laps, 2 laps, team competitions, individual competitions, parent-child matches and more.


The race will bring an unprecedented experience to runners and is expected to attract 600 Asian runners from Hong Kong, Japan, South Korea, Hong Kong, Macao and Taiwan, as well as some elite runners from Hong Kong politicians, celebrities, enterprises and club members, Raise proceeds of up to HKD500,000 for the "Hong Kong Single Parents Association" for the purpose of supporting low-income families and teacher training funds.
---
獎品
Prize

24小時賽' 12小時賽 及 6小時賽
男女子全場總冠' 亞, 季 及 殿軍

24-hour race, 12-hour race and 6-hour race

Male and female audience championship, 1st runner up, 2nd runner up and 3rd runner up